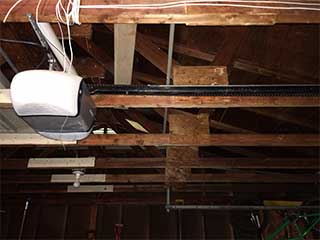 Sometimes, it's the small, relatively simple, unexpected things in life that cause the most trouble. One such example is the garage door opener. This small electrical device is in charge of something that may seem quite mundane but is actually very important – opening and closing your garage door.
When you hurry out in the morning or when you come back home late at night after a hard day out, you pay it little attention. You absentmindedly press it and take it for granted that the door will immediately obey its instructions. But what happens when things go differently? What happens when the remote opener remains remote, but fails to do the opening part?
When Openers Shut Down
When your opener fails to control your garage door, there are a couple of things that might have happened which may require your attention or the attention of professionals.
Power problems – this small helper runs on batteries, and batteries don't last forever. Before you do anything else and contact a professional service provider, simply try changing the batteries on your remote opener or test the ones in it on a different electrical device.
Electrical problems – this electrical device has small electronic components and circuits in it that might get damaged or corroded. When that happens the entire remote might not work properly or not work at all. This situation calls for professional treatment.
Magnetic interferences and synchronization issues – sometimes, magnetic interferences or other things cause synchronization problems, which mean that the remote is suddenly incapable of communicating with the door's command box, thus leaving it unable to open or close the door. This situation also requires professional attention.
What to Do? What to Do?
The answer is simple: if you can't figure it out on your own without spending too much time or effort on the matter, contact local, professional service providers, such as Garage Door Repair La Vernia to provide you with expert consultation and solutions. Our fully equipped, thoroughly experienced technicians can solve any problem on site and always leave our clients 100% satisfied.
Don't waste precious time – we're available anywhere in La Vernia, contact us right now.
Need more? We also provide:
Garage Door Safety Inspections
Garage Door Cable Replacement
New Garage Door Installation
Emergency Garage Door Repairs