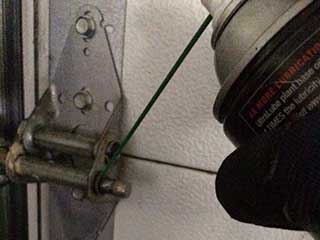 There are many components that make up a garage door system, and it takes all of them working together as one so you can operate it. Here are some of the things you can do to decrease the noise.
Visual Inspection and Light Maintenance
The tracks should be clean from any debris, dry leaves and rocks, so if you see any of the above, remove them. Speaking of tracks, make sure they are properly aligned and without any bends. Check for any loosened or missing nuts and bolts and apply a specialized lubricant to all moving parts. If any of the components look damaged or broken, do not hesitate to call professionals to replace them. This is especially important to remember if you have frayed or rusty cables or springs. These components are under extreme tension and unprofessional handling can cause injury and even death.
Pay Special Attention to Rollers
Rollers should roll smoothly. In order to so, they will sometimes need a little help in the form of a lubricant. When they are worn out, however, lubrication is of no help. They will start to slide instead of rolling inside the track, and the only solution here is replacement. Our advice is to switch to nylon rollers if you can. Not only do they rarely require lubrication, but are also more stable and quieter than steel ones. And remember, rollers don't come in universal size, so make sure you buy the correct one for your door.
Check Your Garage Door Opener
There are three types of openers: a screw, chain and belt drive. The chain driven unit is the noisiest of the three, so if this is the one you have, you might want to consider replacing it altogether. Replacement is also what you should think about if the loud noise is coming from the motor. That's its way of letting you know that the opener will soon stop working. And finally, unusual sounds caused by a loose chain (or belt) can be quieted down by tension adjustment.